Main content starts here, tab to start navigating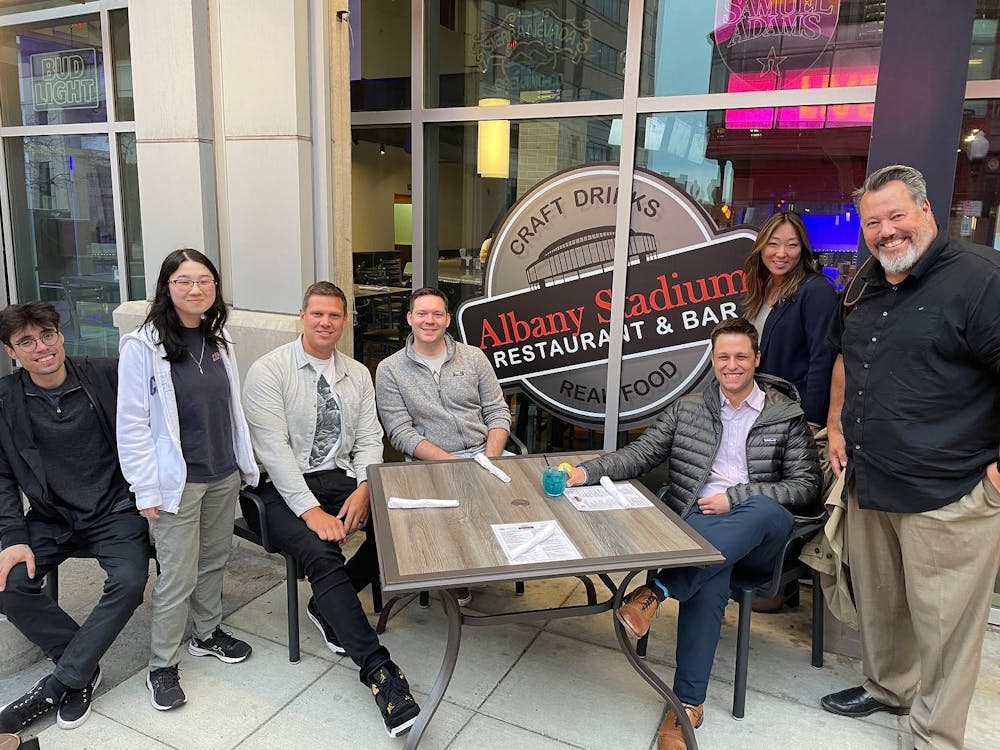 Patron Testimonials!
"It's a cool place to hang out for a drink and some fantastic food. The drinks were perfect and reasonably priced. I'll definitely be back for dinner. The wait staff was professional, friendly, and attentive. The bartender made great drinks all night long. The manager came to our table to make sure everything we ordered was perfect. 5 out of 5. I'd give 6 if I could."
-Kayla C.
"This restaurant & bar is so much more than what you might expect. They're new, and you DON'T WANT TO MISS OUT. The menu is delicious; I had the BEST gourmet grilled cheese of my life. The staff is courteous, kind, and quick. The prices are absolutely reasonable. The chef even came out to ask my opinion on tweaking the recipe-- but there is nothing I'd do differently! Run, don't walk, to this extraordinary new restaurant. You won't be disappointed in the food or the service."
-Megan T.
"I, my 2 daughters, my granddaughter, and my precious almost 1yr great-granddaughter enjoyed lunch together. The food, appetizers, and dessert included were amazing! Check it out you won't be disappointed! Hat's off to Chef and staff!"
-Susan L.
"I visited the Albany Stadium Restaurant based on a recommendation from a friend to try the jalapeño appetizer. Was pleasantly surprised to have a fresh jalapeño without being deep-fried, accompanied by a savory sauce and toppings. That alone is enough to come back! A huge selection of beer taps and great ambiance is what makes ASR a potential for this area of downtown."
-George B.
"We recently ate at the newly opened Albany Stadium Restaurant & Bar. We were so impressed by the unique & diverse menu options. Pub Food with a twist and some delicious entrees that could compete with top restaurants in town. My husband enjoyed a delicious salmon entree while I had a perfectly cooked steak. Next time I'd like to try one of the specialty grilled cheese sandwiches which I've never seen before. The drinks were excellent with many beer options and cocktails. The wait staff was very friendly and accommodating. You will not be disappointed if you dine or have cocktails at this place!! Highly recommended!"
-Susan P.
"Went to check out the new Albany Stadium Restaurant and Bar before a concert at the Egg and was wowed! Great service and amazing food all in an inviting and casual atmosphere! The team went above and beyond to make it a great experience...Highly recommend !! .... Especially the Blue Moon wings :-)."
-David C.
"This new addition to downtown Albany is a gem. Perfect location by the MVP arena and downtown businesses, it is very conveniently located. Plenty of parking even during an event night as we experienced. Perfect sports bar menu with a wide beer selection on tap. I loved my sliders with a good beer and large screen TVs while my companion enjoyed a lobster grilled cheese (yummy) with a cocktail. Something for everyone here."
-Muhsin C.